Hogtown Hash House Harriers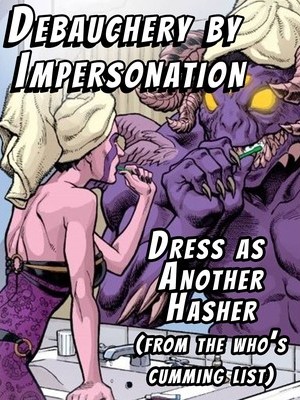 HOGTOWN invites you to it's 35th anniversary hash event to be held for the first time in the exciting, fun and sexy NIAGARA FALLS - the city of LUV! (Ontario, CANADA)
When:
Starting Friday, Nov. 11th till Sunday, Nov. 13th, 2022
Theme:
DISENCHANTED FOREST!!
What to Expect:
• Hogtown awesome haberdashery • Fun Fun Fun • Beer - vino - shots – mimosas – caesars – more beer!!! • 3 Great Trails! • Friday night run • Saturday Malort Mile, Adventure trail, more shenanigans • Saturday night: Disenchanted forest theme dinner and dance with Hogtown's own band Ultimate and the Assholes!! • Sunday Fatboy
Cum early for a Thursday TWAT Trail – details to cum soon (not included in price)
Rego
Pricing: CAD/USD (price guaranteed if PAID by the due date)
• Early Bird Pricing: Sept. 29 - Oct. 7: CAD 150/ USD 120 • Regular Pricing: Oct 8 - Oct. 15: CAD 160/ USD 130 • Lazy Bird Pricing: Oct 16 - Nov. 1: CAD 170/ USD 135 • Your fucked up price: Nov 2 - Nov. 10: CAD 180/ USD 145 (NO HAB GUARANTEED) • At the door: CAD 185/USD 150 (NO HAB GUARANTEED)
**If you do not want to attend one of the days, find somebody who does and split the cost with them. This year we don't offer rego price for parts of the weekend
How to pay for your rego: Fill out the REGO page, then pay....ONLY USE THE HASHREGO PAYPAL BUTTON IF PAYING IN USD 1) Canadian funds: etransfer to hashcash@hogtownh3.com 2) CAN $ paypal (manually) loopy.hogtownh3@yahoo.com 3) US Funds: use the paypal link after you fill out the rego form
For more payment or rego info contact: loopy.hogtownh3@yahoo.com
Rego here: https://hashrego.com/events/hogtowns-35th-anniversary-disenchanted-fores-2022?
Stuff to Bring:
Vessel !!
Accommodations:
Travelodge Fallsview Hotel - 5599 River Road, Niagara Falls, Ontario, CANADA
The Travelodge Niagara Falls Fallsview: located on River Road, steps away from Clifton Hill, Casino Niagara and many local attractions. The Falls and two Casinos are nearby. This hotel has been welcoming guests for over 50 years and offers exceptional service & comfortable rooms. Wi-Fi, continental breakfast at the hashpitality room, an indoor pool, hot-tub & sauna!!!
We have booked the 3rd floor of this marvelous hotel with 38 rooms in total, half with a view of the Niagara River
HOGTOWN SPECIAL RATES: Fri: CAN $81 (+$10 view of river) Sat: CAN $111 (+$10 view of river) .. Thu: CAN $65 no breaky (+$10 view of river)
Most rooms have 2 queen beds, some 1 king, some 1 queen, ask for availability. Prices above are for 2pp. Some rooms can take up to 4pp for an extra $23 pp/night
CALL FOR RESERVATIONS: (905) 354-2727, mention that you are with HOGTOWN to get the special rates
Please note* $15/vehicle/night parking fee
We Google Maped it! Click Here!
Don't Forget:ww
A Vessel !!